2008.gada 12.augusts (3)
Cik salti ir tas ?
Faili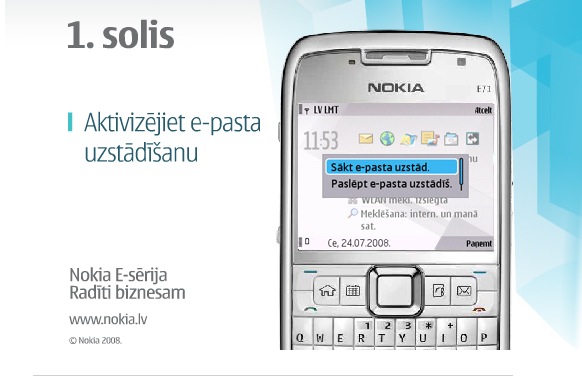 ņja, latviski "How cool is that?" īsti neskan, bet reku šeku esmu pamanīts (Lietotāja komentāri) vēl pirms garāka un detalizētāka Nokia E71 apraksta laišanas tīmeklī (Coming soon...).

P.S. Nokia, kad būs gatavs, iedodiet notestēt to Tube (aka iPhone-killer)

P.P.S. es tiešām ar nepacietību gaidu Nokia Pilot projekta palaišanu, lai varu pieteikties.
Tiem kas nezin, tas ir tāds kā lietotāju sadarbības projekts, lai Nokia varētu uzlabot savus produktus. Jācer, ka tam būs arī kādi rezultāti.


e71 lietotaajs 2008-08-13, 11:16

- a tas Tev sirdi nesilda? ieliktu veel shaadus taadus komentaarus un interesantu info, tikai kaapeec komentaari neposteejas?
e71 lietotaajs 2008-08-13, 11:21

- re ko raksta zviedri...

The Swedish no 1 mobile magazine, Mobil, has tested Iphone and E71 in their latest issue. They always do very careful testing of all functionality, performance and software programmes and rates the phones according to their own rating system.

E71 scores 84 points while Iphone gets 80 points.

The comments are:

E71 Headline: "Double faces - the expression "Power package" is a well used cliché but the Nokia E71 does really deserve the labelling".

The performance test comment: "Best result ever for a mobile phone in our bench-marking tests. And Nokia E71 feels fast in general and can manage running several functions at the same time."

Pros: Software, key board, usability, in-built gps, turbo-3G, wlan, good radio and music player.
Cons: No real earphone contact, no perfect camera.

Iphone Headline: "Revolution with exception - superior in many areas but retarded in others. When Iphone is finally comes to Sweden, it is impressive in several ways but the GPS and the camera are among the disappointments."

The performance test comment: "When talking about performance, Iphone does not allow a real test. You can only try one function at a time since Iphone is lacking multi-tasking. And even then it can happen that is takes a couple of seconds before you can change between two programmes"

Pros: Simple and easy to use, the possibilites to get online, email and web.
Cons: Lousy GPS, lacks MMS, lousy camera, no multi-tasking, can not be used as a modem.
e71 lietotaajs 2008-08-13, 11:28

- atsuuti savu meilu - labpraat ar evi parunaatu par dzīvi!